Saturday, July 30, 2016 from 6:00 p.m. – 10:00 p.m.
Guam International Country Club (GICC) Player's Lounge
The Academy of Our Lady of Guam, Class of 1991 hosted a fundraiser on July 30, 2016 at the Players' Lounge, Guam International Country Club to celebrate their 25th Reunion and to benefit the AOLG Tuition Scholarship Fund. Alumnae from both Guam and Stateside joined forces to make this event a huge success and were able to raise funds through their generous contributions. Friends from the Island community also donated door prizes for this event. Overall, it was a great way to commemorate the 25 years of being an Academy alumnae. Indeed the true Spirit of Mercy is flowing in the Academy of Our Lady of Guam, Class of 1991. May God continue to bless you for your generosity.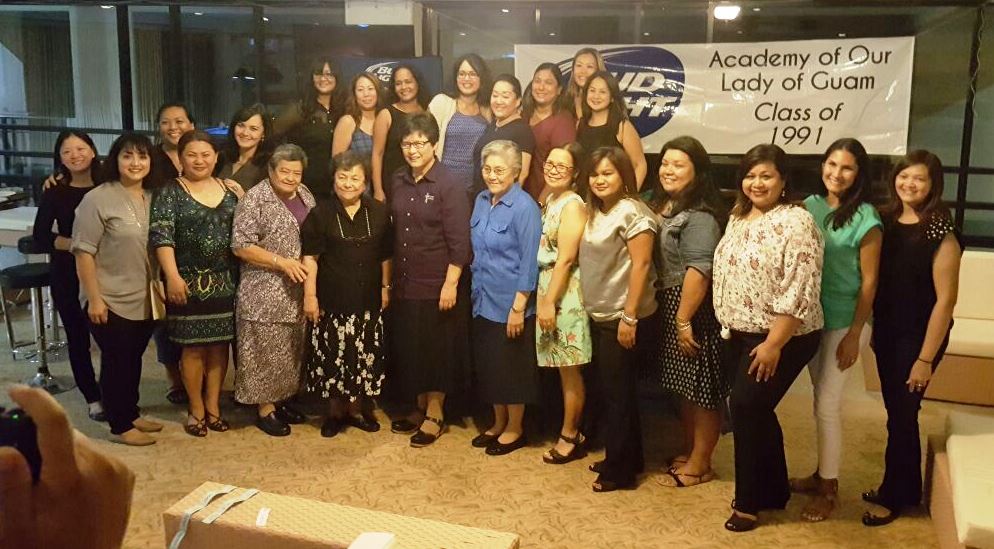 Front row from L-R:
Bonnie (Lee) Alig, Melinda Sanchez, Nora (Dela Rosa) Santos, (Sisters of Mercy) Sister Mary Stephen, Sister Mary Cecilia Camacho, Sister Mary Angela Perez, Sister Brigid Perez , Tara (Franquez) Garrido, Rowena (Roa) Guzman, Michelle Camacho, Alma (Neglerio) Terbio, Pam (Baker) Brewster, and Joanne (Sequitin) Kim.
Back row from L-R:
Paula Ulloa, Aubrienne Merfalen, Anna Liza (De Luna) Ganeb, Peggy (Wong) Nartia, Faith (San Augustin) Escalona, Gina (Angoco) Mendiola, Angela Ng, Lois (Taitano) Lujan, Sunny (Chang) Pangelinan, and Jackie Ponce.
Click read more for more pictures.