Academy of Our Lady of Guam students recently presented Taylor Cruz with "letters of hope." Under the Guam Cancer Care program "Ifit Echo", students send "letters of hope" to a cancer warrior.
"Ifit Echo" is a cancer education program for high school students, which expands their knowledge about cancer, gain an understanding of its impact in both our local and national communities and, most importantly, learn about cancer prevention. Since it launched in 2015, over 1,700 high school students have participated in the program.
Seventy 10th grade students from Mr. Rob Ady's Biology classes at the Academy participated in the program this year. The students were introduced to Taylor via Guam Cancer Care. Guam Cancer Care partners with the Sorenson Media Group in order to create news stories to spread awareness of this life threatening illness. Via their "My Story" piece of Taylor's journey as a cancer warrior, the students were introduced to Taylor's struggle with this disease. After viewing and discussing her plight, the students then created their "letters of hope" in order to give words of encouragement and inspire Taylor in her battle against cancer.
Taylor is the daughter of Jennifer R. Cruz '90 and Dr. Michael Cruz. We hope that through this story, others will share in the concern for cancer warriors and continue to keep them in prayer. The Academy family wishes Taylor the best and hope that one day, she will be a student at the school like her mother to experience life at the Academy.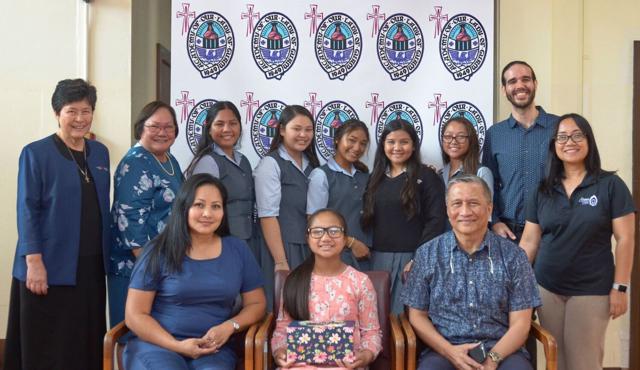 Pictured left to right: (front row) Jennifer R. Cruz '90, Taylor Cruz, Dr. Michael Cruz; (back row) Sr. Mary Angela Perez, RSM '64 (AOLG President), Mary A.T. Meeks '69 (AOLG Principal), Natasha Gandaoli, Kate Fausto, Vernice Tiru, Cassidy Murphy, Erica Bordallo, Rob Ady (AOLG Biology Teacher), and Karina Quito (Guam Cancer Care.)