Guam Captures #MakeMercyReal Overall Contest Winner
Academy of Our Lady of Guam student, Alyssa Dela Cruz, was recently presented with a certificate and a $500 check as the winner of the 2018 #MakeMercyReal video contest. The contest is open to high school and college age students at Mercy-sponsored schools and ministries in the United States, South and Central America, Jamaica, Guam and the Philippines. The annual video contest engages young people to help them connect to the Critical Concerns of the Sisters of Mercy. Miss Dela Cruz's video examines the injustice, inequality and lack of access to opportunity encountered by millions of girls and women throughout the world.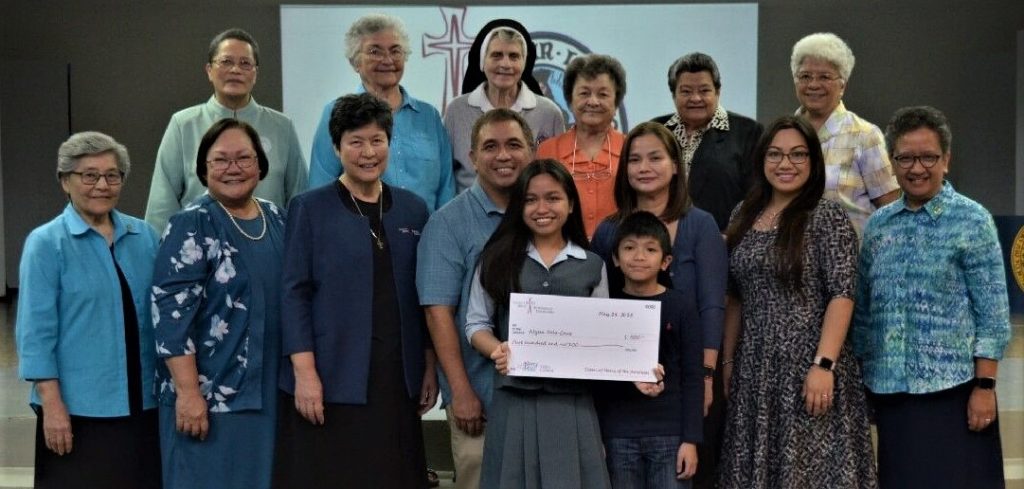 Pictured left to right: (front row) Sr. Brigid Perez, RSM, Mary A.T. Meeks (AOLG Principal), Sr. Angela Perez, RSM (AOLG President), Vincent Dela Cruz, Alyssa Dela Cruz, Ethan Dela Cruz, Frances Dela Cruz, Iris Gaza (AOLG Teacher), Sr. Mary Marian Therese Arroyo, RSM (Guam Mercy Administrator); (back row) Srs. Orlean Pereda, RSM,  Mary Rose Elliott RSM, Dorothy Lettiere, RSM, Cecilia Camacho, RSM, Mary Stephen Torres, RSM, Cabrini Taitano, RSM.